Adventurers recreate Inuit kayak crossings to Scotland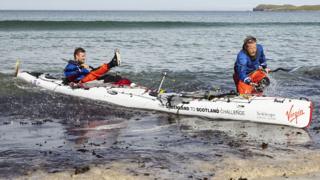 Two adventurers have kayaked from Greenland to Scotland, a journey of about 1,200 miles (1,931 km).
Olly Hicks and George Bullard took 66 days to complete the paddle.
The adventure was to show that Inuit could have made the same journey in kayaks made of sealskin and driftwood in the 17th and early 18th centuries.
Mr Hicks was inspired by a story of what is said to be an Inuit man who came ashore at Belhelvie in the 1700s.
The man, who was found exhausted on the shore near Aberdeen, died a few days later.
The kayak he was found with is in the care of the University of Aberdeen.
There are also historical accounts of Inuit, known at the time as Finnmen paddling to the Orkney Islands.
Starting out from Greenland on 1 July, Mr Hicks and Mr Bullard paddled to Iceland and then crossed a stretch of open ocean known as The Devil's Dance Floor to the Faroe Islands.
The first part of Scotland they reached was the small island of North Rona off the north Highland coast.
On Sunday, Mr Hicks, from Thorpeness, Suffolk, and Mr Bullard, of Gressenhall in Norfolk, completed their paddle when they came ashore at Balnakeil Bay near Durness in Sutherland.
Mr Hicks said: "Overall the expedition was like the curates egg - good in parts.
"It was a really tough trip physically and perhaps more so mentally, but we're both delighted to have pulled it off against improbable odds - and hopefully reawakened the legend of the Finnmen."
He added: "We are delighted to have successfully completed this original adventure that's been over five years in the planning and not only by George and I, who only had to paddle, but to the dozens of people who supported and backed the project in one way and another.
"It's testament to the goodwill and magic generated by feats of human endeavour.''