New aerial images of Lochaber hill fort Dun Deardail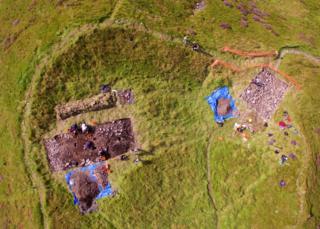 New aerial images have been taken of an ancient hill fort in Lochaber.
Dun Deardail was constructed on a prominent knoll on Sgorr Chalum, a hill overlooking the River Nevis in Glen Nevis.
Little is known about the origins of the fort, who built it or when it was constructed.
In August last year, archaeologists began the first ever excavation at the site and that work was continued this summer.
The aerial images were taken in August, both to document the dig and for a series films about Ben Nevis and Glen Nevis.
The archaeological excavation and films form part of the Nevis Landscape Partnership Programme, a five-year £3.9m scheme consisting of 19 projects.
The projects aim to encourage people to engage with the natural and cultural environment of both Ben Nevis and Glen Nevis.
Heritage Lottery Fund, Scottish Natural Heritage, Highland Council, Forestry Commission Scotland, John Muir Trust and The Nevis Partnership are partners in the programme.
Archaeologists believe Dun Deardail was probably built in the first millennium BC, although it may have been occupied and reused on several occasions through time.
It is what is known as a vitrified fort.
The process of vitrification occurs when a timber-framed drystone defensive rampart is destroyed by fire and the heat generated is so intense that the core of the stone rampart melts.
Examples of vitrified forts can be found across Scotland, including in Aberdeenshire.
Forestry Commission Scotland archaeologist Matt Ritchie said there were many probable causes for the fire at Dun Deardail, including its Iron Age residents ritualistically setting the structure ablaze.
He said: "It could be anything from an accidental fire to deliberate destruction.
"Perhaps at the death of the tribal chief or king they burned the hill fort in the same way the Vikings may have burned the long boats of a chief, or it is deliberate destruction during warfare."
It has been suggested that the name of Lochaber's hill fort may be linked with an ancient Irish myth called Deirdre of the Sorrows.
The legend tells of a chieftain's daughter who was said to be so beautiful that kings, lords and warriors fought and died to try to win her hand in marriage.