Super funny animals: Cairngorms hare in running for photo award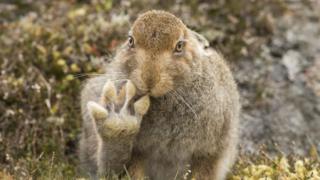 A photograph of a mountain hare in the Cairngorms raising a back foot as if saying "hello" is in the running for a Comedy Wildlife Photography Award.
Photographer Andy Howard spent more than five hours documenting the animal.
Mountain hares change colour from brown to white in winter to better camouflage themselves against snow.
Also known as blue hares, mountain hares are found in the Scottish Highlands, parts of Derbyshire and throughout Ireland.
Mr Howard's image has made the shortlist for the Comedy Wildlife Photography Awards 2016.
The winners will be announced on 9 November.
Also on the shortlist is a baby elephant appearing to face plant on a road in Hwange taken by Markus Pavlowsky and a meerkat in Little Karoo, South Africa, photographed by Brigitta Moser.
Others in the running are images of a fox diving into snow in Yellowstone National Park, US, by Angela Bohlke and a photograph of a little leopard tortoise jumping on another's back in Tarangire National park, Tanzania, by Brenden Simonson.