Prince Charles presents Gaelic award to Italian cyclist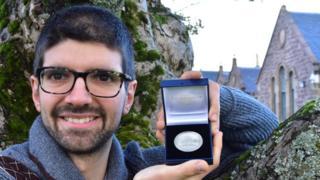 An Italian cyclist has been presented with the Gaelic learner of the year award by the Prince of Wales.
Prince Charles made the presentation to Carmine Colajezzi at the Royal National Mod in the Western Isles.
The eight-day celebration of Gaelic language, music and culture is being held on the islands for the first time since 2011.
Mr Colajezzi, 30, received the award in recognition of the significant steps he has taken to become fluent.
He was born and raised in Abruzzo, Italy, before moving to Scotland five years ago.
He began to study Gaelic after getting hooked on the language while on cycling tour of the Western Isles and last year moved to Skye and enrolled at Gaelic college Sabhal Mor Ostaig to boost his fluency.
He has since taken part in several Gaelic radio programmes for beginners.
The prince, who is known as the Lord of the Isles when in the Western Isles, also met some of the 200 competitors taking part in the Mod.
He was introduced to Gaelic singers and Highland dancers as well as volunteers and staff from from Mod organisers An Comunn Gaidhealach, at the Nicolson Institute in Stornoway.
John Macleod, An Comunn Gaidhealach president, said: "It's an honour to have had His Royal Highness, The Lord of the Isles, attend this year's Royal National Mod.
"Today has been a significant day in the history of the Mod, and I'm sure for the people of the Western Isles too.
"Carmine is a worthy winner of the Gaelic learner of the year award, his hard work and commitment has been remarkable.
"The level of competition already this year has been outstanding and we're delighted to have witnessed such high levels of Gaelic being spoken in the younger generations."