Fort Augustus Abbey monk extradition hearing adjourned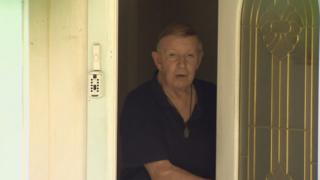 An extradition hearing for a former Catholic monk accused of child abuse at a Scottish school has been adjourned until next month.
A magistrate in Australia allowed Father Denis "Chrysostom" Alexander more time to make a bail application.
He has always denied allegations that he abused boys at the former Fort Augustus Abbey boarding school in the Highlands.
He was remanded in custody with the next court hearing due on 13 February.
The magistrate is then expected to decide whether or not there will be a contested extradition hearing
In 2013, Fr Alexander was confronted by BBC Scotland in Sydney as part of a documentary into alleged abuse by monks at the school, which prompted a major police investigation.
Another former Fort Augustus monk is due to face trial in Scotland for a series of assaults, while a further seven cases remain under consideration by the Crown Office in Scotland.
Fr Alexander was returned by the Catholic Church to Australia in 1979 after allegations of abuse were made by a Fort Augustus Abbey pupil, and continued working as a priest for a further 20 years or more.
He was stripped of his priestly faculties in 2013 after the BBC programme.