Rocks cleared for Caithness-Moray subsea power cable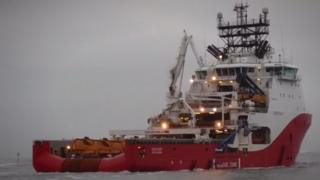 Rocks and large boulders have been cleared away from the route of a high voltage subsea cable to carry electricity from Caithness to Moray.
The cable will have capacity to carry up to 1,200MW of electricity generated by renewable energy projects in the north of Scotland.
The ship, the Siem Ruby, used a subsea boulder clearance plough to create a trench in the Moray Firth.
Led by SSE, the £1.1bn Caithness-Moray Project is to be completed next year.
SSE said the scheme represented the largest investment in the north of Scotland's electricity network since the hydro-electric development era of the 1950s.
The subsea cable is to be laid in two sections and the project completed next year.
One length of the cable will be run from Noss in Caithness to a mid point in the firth and the second from Portgordon in Moray.
Following the installation of the cables the plough will be brought back and reconfigured to backfill the trench using the seabed material previously excavated.
Lead project manager Brian Mitchell said: "This is a significant milestone for the Caithness-Moray project as the plough has literally cleared the way to allow our team to start laying the cables that will enable electricity to be transported between Caithness and Moray.
"Once complete, the Caithness Moray subsea link will significantly reinforce the north of Scotland transmission network and aid our transition to a low-carbon economy."