Roddy Riddle first Scot to finish Arctic ultra marathon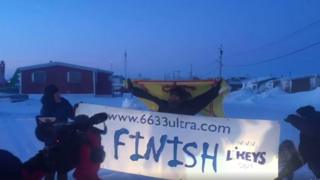 A former Commonwealth Games cyclist has become the first Scot to finish a marathon held above the Arctic Circle.
Roddy Riddle, who is from Inverness and has Type 1 diabetes, completed the 350 miles of the 6633 Ultra in just under seven days.
The event, held this year in Canada, is described as one of the world's coldest and toughest foot races.
To finish the race, competitors must complete the route in eight days or less.
In a post on Facebook, Riddle, who finished in second place, said: "350 brutal miles across the Arctic and I'm the first Scot to have ever finished the race."
He added: "But the most important thing is raising awareness for what can be achieved with Type 1 diabetes and to show it shouldn't stop you achieving your goals in life."
Riddle completed a marathon in the Sahara Desert in 2013.