Snaring hares unlikely to be permitted, says SNH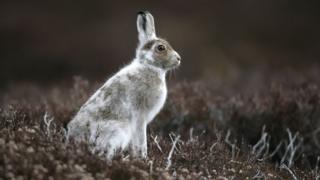 Licences for snaring mountain hares are unlikely to be issued in the future, Scottish Natural Heritage (SNH) has said.
The public body has carried out a review of wild animal snaring for the Scottish government.
SNH said it could not be ruled out that snaring caused unnecessary suffering to hares.
Animal welfare charity OneKind has welcomed the review and the SNH's position on snaring of hares.
The animals can still be shot in culls held at certain times of the year.
Some landowners have culls carried out on moorland to control the spread of sheep ticks to grouse and to prevent damage to young trees and plants.
OneKind and an online petition oppose the culls.
'Voluntary restraint'
But SNH said snaring was now unlikely to be permitted.
A spokesman said: "The snaring of mountain hares is only permitted under licence. We have not issued licences for this activity for several years and are not minded to do so.
"It is legal to control mountain hares by shooting outside their closed season and sometimes this is necessary to protect sensitive habitats and young trees.
"European legislation requires their population is maintained at a favourable conservation status. Right now, there isn't enough information to conclude that culling is threatening this status.
"However, we don't support large-scale culls where the intention is to remove hares or significantly reduce their numbers."
The spokesman added: "We continue to urge voluntary restraint by shooting estates because of uncertainty over the long term trend in the hare population."
OneKind Director Harry Huyton said: "This decision is hugely significant because it effectively sets an 'unnecessary suffering' test for wildlife management practices.
"In terms of animal welfare, there is no difference between a mountain hare suffering in a snare and a fox suffering in a snare."
Colin Shedden, director of British Association for Shooting and Conservation Scotland, said snaring hares was no longer common practice.
He said: "However, there remains a need to control hare numbers to protect sensitive habitats, young trees, and to prevent disease transmission, and we support SNH in their efforts to determine current population densities.
"The issues and methods concerning fox snaring are entirely different and this remains a very effective method of control to protect livestock, especially at lambing time, and wildlife such as ground-nesting birds."