Walker, 71, spent night in freezing conditions on Ben Nevis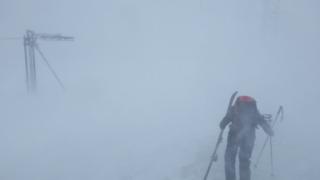 A 71-year-old hillwalker spent the night in freezing temperatures and snow on Ben Nevis, it has emerged.
Arthur Bowden sparked a Police Scotland missing person's appeal after he was last seen in nearby Fort William on Monday.
He was found by Lochaber Mountain Rescue Team at about 13:30 on Tuesday near the summit of Britain's highest mountain.
Mr Bowden, suffering from hypothermia, was airlifted to hospital.
Lochaber MRT, which was assisted by RAF Lossiemouth MRT, said conditions during the search were "extremely difficult" with deep snow slowing searchers' progress on the mountain.
Earlier on Tuesday a party of French walkers were avalanched but not injured, the team said.
The team moved Mr Bowden to a location where he could be airlifted by a coastguard helicopter to Belford Hospital in Fort William.
'Really bad'
John Stevenson, the leader of Lochaber MRT, told BBC Radio Scotland that several teams of searchers looked for Mr Bowden.
Mr Stevenson said: "We had a bit of an epic.
"A team went up to the summit to look for him. They got up to the 4,000ft mark and found the guy in the snow. He was breathing and conscious but he was deeply hypothermic so they had a bit of a job just getting him down below the cloud level so we could have him lifted off the hill.
"His plan, we believe, was to go to the summit shelter but we don't think he ever made it that far. We think he spent the night out, lost in the white out on the top somewhere."
Mr Stevenson added: "Weather conditions were really bad. We had quite high winds and heavy snow. The boys were ploughing through some really deep drifts on the hill.
"I think the guy is really lucky. It can be almost impossible to find someone especially when you have a lot of fresh snow.
"The wind just blows the snow around and buries everything. You can be standing four or five feet away from someone and not see them."