Fort William care home's dog recovering after hip op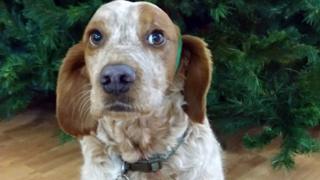 A rescued dog that provides companionship at a care home is recovering after having a hip operation paid for by residents and staff.
People in the wider community also chipped in to cover the cost of William's £8,000 operation last month.
He first arrived at Invernevis House in Fort William early last year.
William had previously been found neglected in Cyprus by a couple from Keith in Moray who were visiting the island.
Invernevis House manager Kit Cameron said: "We are pleased to say that William successfully came through his hip operation with no complications and is doing fantastically well.
"He lived his whole life with a degenerative hip condition and he's now free from the pain that caused him. He's under doctor's orders to take it easy, but try telling him that.
"The residents are taking great care of him and nursing him back to full health."