Kessock lifeboat crew help dog walker and pet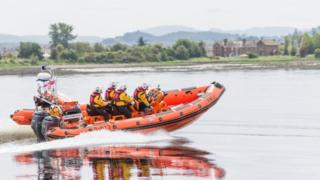 A lifeboat crew went to the aid of a dog walker and her pet after the woman fell from a footpath and injured an ankle.
The 67-year-old and her Jack Russell, called Peanut, ended up in dense woodland in the incident while on a walk between Ormond Hill and Avoch.
RNLI Kessock was alerted and went to the scene on the sea shore of the Black Isle.
The crew carried the woman and her dog to the safety of the boat.
The woman was cold but uninjured in Saturday afternoon's incident.
Two members of the lifeboat crew waded out from their craft in waist deep water to reach her and then carried her and Peanut from the shore to the boat.
RNLI Kessock said: "With the lady walker and Peanut safely back aboard the lifeboat they all made their way round to Avoch harbour where they were met by the Inverness and Nairn Coastguard Rescue Team."