Plans for savings and investment at NHS Highland agreed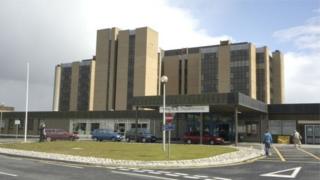 The board of NHS Highland has agreed to plans to achieve savings of £100m by 2020 and invest millions of pounds in upgrading Inverness' Raigmore Hospital.
The scale of savings needed has been described as "unprecedented" by bosses at the health board.
They have produced a quality and sustainability plan setting out how efficiencies could be achieved.
A business plan setting out in detail improvements to Raigmore is now to be produced.
Once completed, it would eventually be submitted to the Scottish government for approval.
NHS Highland hopes to secure £76m in funding for a major redevelopment of the hospital - the biggest investment in the site for almost 40 years.
A further £12.5m would be sought for cladding around the main tower block of the hospital.
To help progress the £100m savings, detailed plans setting out specific initiatives for NHS Highland's operational units and corporate services are to be considered by board members in May.