Dog rescued by coastguard from ravine at Dunnet Head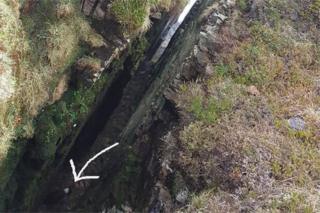 A dog has been rescued after falling about 50ft into ravine at the most northerly point of the UK mainland.
Coastguard teams from Wick, Scrabster and Duncansby were involved in the rescue operation at Dunnet Head on the Caithness coast on Monday.
One of the teams' members was lowered into the ravine and coaxed the dog into an animal rescue bag so it could be lifted out.
The coastguard said the operation was a success.
A spokeswoman for the Maritime and Coastguard Agency said: "We initially received a call just before 16:30 from a first informant who told us the dog was possibly 100ft down a sheer cliff.
"The weather at the time was windy and cold.
"When the Coastguard Rescue Teams arrived on scene and began assessing the situation and setting up the rope rescue gear, they estimated the fall at approximately 50ft. By this time there was very thick fog on scene reducing visibility."
She added: "The dog was safely recovered by 18:40 and none the worst for its ordeal."
The incident at Dunnet Head came just days after another rescue in the Highlands involving a dog.
Nell, a sheepdog that had been missing for 12 days, was rescued from a gorge by Lochaber Mountain Rescue Team.
The collie was spotted stuck down Monessie Gorge, at Roybridge near Fort William, by a person on a train that was passing on the nearby West Highland Line.
And on Saturday, a Jack Russell called Peanut was involved in a rescue by RNLI Kessock lifeboat after the dog's owner injured her ankle on a walk near Avoch on the Black Isle.