Historic Strathpeffer Pavilion under new management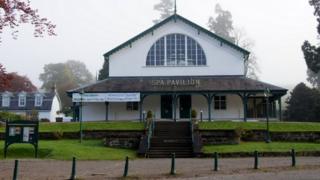 A historic Highland pavilion is under new management.
The Strathpeffer Pavilion has in the past hosted events as diverse as a rally by suffragette Emmeline Pankhurst and a performance by Kaiser Chiefs.
The property in Strathpeffer, which opened in 1881, is owned by the Scottish Historic Buildings Trust.
High Life Highland (HLH) has agreed to run the site for three years and taken over from voluntary Strathpeffer Pavilion Association.
Discussions are to held with the local community about it eventually buying out the property.
There has been a long-running plan for a community buyout.
HLH is a charity that runs leisure and sports facilities on Highland Council's behalf.
Before the new management deal was agreed, there were concerns the hall was to be closed down and bookings, including for its use for weddings, were to be cancelled.
HLH chief executive Ian Murray has sought to assure the site's customers.
He said: "I am very pleased that HLH has been asked to become involved in operating such an historic and important venue.
"I am glad that the agreement gives certainty to the many people with existing bookings at the pavilion.
"The uncertainty over the past few months has been very worrying for those with weddings planned at the venue, as well as for promoters of events and concerts."
He added: "Initially, we will be concentrating on making sure that existing bookings are honoured and over time we hope to then develop the programme as finances allow.
"A great deal of work has been undertaken over the last two weeks in consultation with the existing voluntary pavilion trustees and staff in order to ensure as smooth a transfer as possible.
"The HLH team is making contact with all the bookings over the first few weeks just to confirm their requirements and offer some further reassurances."
War hospital
The Strathpeffer Pavilion was built at a cost of £2,769 and was officially opened by the Duchess of Sutherland.
It went on to host performances and lectures delivered by Irish dramatist and political thinker George Bernard Shaw, Antarctic explorer Ernest Shackleton and Pankhurst, one of the leading figures in the campaign for votes for women.
During World War I the pavilion was used as a hospital for US Navy sailors.
Buildings in the village were again requisitioned by the military during World War II.
Years later, the pavilion set the stage for gigs by the Bay City Rollers, the Fortunes, Nashville Teens and Brian Poole and the Tremeloes.
However, regular use of the property waned by 1978 and it lay almost unused for 25 years before a fund-raising effort led to its restoration.