Harry Styles pictured dangling from helicopter in stunt on Skye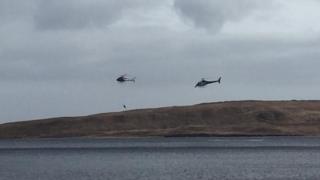 A stunt involving One Direction's Harry Styles dangling from a helicopter on Skye has been captured by a local photographer.
The singer was shooting a video for his first solo single, Sign Of The Times.
Mitchell Partridge, who runs the firm Skye Ghillie, was taking clients fishing at the Storr Lochs when scenes for the music video were shot.
Wednesday's stunt in north east Skye saw Styles dangling from a helicopter while being filmed from another.
In April last year, Kanye West visited Skye to make a music video.
The US musician's trip prompted a pun-filled tweet from Police Scotland and tongue in cheek report in a local newspaper.
Sign Of The Times is Styles' first material since One Direction declared a hiatus in January 2016.