First of Nato Joint Warrior exercises wound up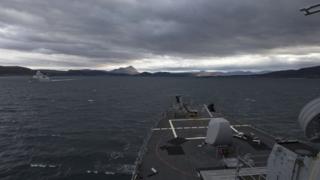 A major UK-led Nato exercise that involved military personnel training in Scotland has been completed.
Joint Warrior is held twice a year - in spring and autumn.
The first of this year's two exercises involved warships operating from Faslane on the Clyde and aircraft from RAF Lossiemouth in Moray.
Countries taking part included Denmark, Belgium, Estonia, France, Germany, the Netherlands, Norway, Spain, Sweden, the UK and the US.
Live firing was conducted using a military range at Cape Wrath in Sutherland during Joint Warrior.
This year's spring staging of the exercise also involved the Royal Navy's first large scale cyber war games.
Information Warrior 17 involved Artificial Intelligence (AI) and testing the protection of warships and submarines against cyber attacks.