Fallen climber's 'unsung heroes' praised by coastguard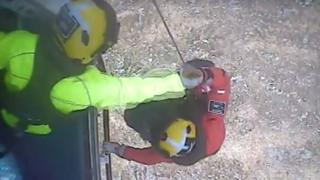 The husband of a climber who fell more than 30m (100ft) and a passing off-duty doctor have been described as the "unsung heroes" of her rescue.
The woman fell while on Mullach Fraoch-choire in the north west Highlands with her husband on Thursday.
The doctor, was walking in the area at the time, helped to give her first aid while all three were at risk of falling 121.9m (400ft).
The woman was airlifted by a coastguard helicopter to hospital.
Stornoway Coastguard search and rescue helicopter was in the Glenmoriston area training when the alarm was raised at about 15:00.
The climber was airlifted to Belford Hospital in Fort William.
The Maritime and Coastguard Agency (MCA) said it had been told that she was recovering from her ordeal.
The helicopter's winchman, Norman MacLeod, was lowered down the dangerous cliff edge for the airlift.
He said the climber was "extremely lucky" her husband and the doctor were able to reach her to give first aid.
Mr MacLeod said: "They are both unsung heroes and had done a wonderful job to help make her comfortable at great risk to themselves as they were perched on a precarious 400ft drop and in danger of falling further.
"We understand she is on the road to recovery which is great news for us to hear."