Transformers' Skye scenes no longer in disguise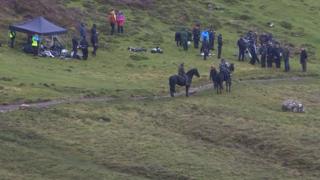 Scenes that were shot on Skye last summer for the new Transformers movie can be glimpsed in a newly-released trailer for the film.
Car parks at beauty spots such as the Quiraing were closed in August to allow for filming of Transformers: The Last Knight.
The Skye scenes in the trailer feature moody landscapes and an ancient battle.
Sir Anthony Hopkins, one of the stars, can be heard telling of the Transformers' "secret history".
The trailer has been uploaded to social media sites such as Twitter and video sharing website YouTube.
To be released in cinemas next month, it also stars Laura Haddock and Mark Wahlberg and is the latest in a series of movies about giant battling robots.
On Skye, actors were seen wearing medieval garb and riding horses.
Filming was done at the Quiraing and The Storr on the Trotternish Peninsula.
Lealt Quarry is also thought to have been used by the film crew, and a helicopter was seen flying over that location with a camera attached.
Scenes for other big budget features, including The BFG and Prometheus, have previously been shot on Skye.
Last month, One Direction's Harry Styles was seen dangling from a helicopter at Skye's Storr Lochs.
The singer was shooting a video for his first solo single, Sign Of The Times.