Transition to new midwife-led unit at Wick completed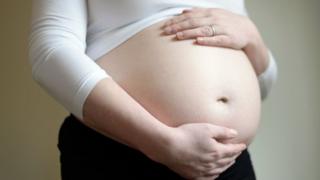 NHS Highland says it has "successfully" and "safely" completed the transition to a new model for maternity services at Caithness General in Wick.
A new midwife-led community maternity unit was introduced in January this year.
Maternity services were previously led by consultant obstetricians.
However, Caithness General has no facilities for on-site specialist neonatal paediatric support or adult intensive care.
NHS Highland has said that the majority of births at the hospital in Wick can be handled by midwives only.
The health board decided to make changes to maternity services after an investigation found that the deaths of two babies born at the Caithness General were "potentially avoidable".
A new report on the transition to the midwife-led service shows more women are now travelling to Raigmore Hospital in Inverness.
Just 11% gave birth at Caithness General between December last year and the end of April - compared with 68% over the same period two years ago, according to the NHS Highland report.
Medical director Dr Rod Harvey said that there has been a "very significantly lower" number of emergency transfers of women in labour and new born babies - which he says shows that "the new arrangements are working as planned".
The report also said that work was "well advanced" to provide additional accommodation in Inverness for people using maternity services from Caithness and Sutherland.