Warning of rain as temperatures rise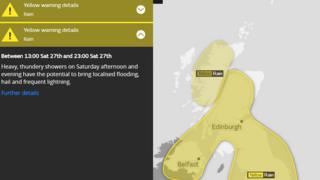 The Met Office has issued a yellow "be aware" warning for heavy rain in Scotland on Saturday and Sunday.
Forecasters have warned that there could be some torrential thundery showers, with the Highlands expected to have heavy rain on both days.
The warning has come as temperatures rise in Scotland for a second day.
BBC Scotland Weather said the temperature could reach 30C in the north Highlands. The Scottish record May temperature is 30.9C.
That was recorded in Inverailort in the Highlands five years ago.
By about 15:00 on Friday, it was 27.8C in Kinlochewe in Wester Ross, 27C in Inverness, Altnaharra and Drumnadrochit and also 27C in Edinburgh and Glasgow.
However, just over an hour later a temperature of 29C was recorded at Lossiemouth in Moray - making it the UK's hottest day of the year so far. The same temperature of 29C was recorded at Portmadog in Wales.
Temperatures across large parts of Scotland were in the high 20s on Thursday.
May is traditionally seen as one of the best months for long spells of fine weather in Scotland.
On social media, Mountaineering Scotland is encouraging hillwalkers and climbers planning a trip to the hills this weekend to check its advice on what do if there is lightning during forecasted thundery weather.