Chased Shadow in Stornoway rooftop animal rescue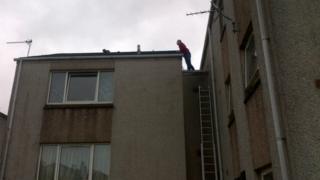 A cat got itself stuck on a roof for 12 hours after scaling a drainpipe while being chased by a dog.
Shadow's ordeal in Stornoway on the Isle of Lewis began at about 02:00 on Monday.
Three attempts were made to coax her off the roof with food and "gentle encouragement", said the Scottish SPCA.
After it started raining heavily, firefighters were called and managed to get Shadow off the roof and reunite her with her owners.
Maggie Adkins, an auxiliary inspector with the SSPCA, said, "After three attempts of trying to coax her down with food and gentle encouragement it was clear that she was getting more and more anxious.
"The heavens opened so we called the fire brigade in for help and they successfully got all four of Shadow's paws back on the ground."
She added: "We'd like to take this opportunity to thank the fire brigade again for their assistance."