Corpach wreck's beacon sparks search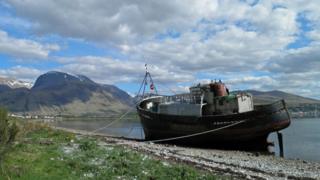 An emergency beacon from a fishing boat that was grounded and abandoned years ago has sparked a major air and sea search.
The alarm was raised at about 01:00 on Tuesday, the Maritime and Coastguard Agency (MCA) said.
A coastguard helicopter, Fort William coastguard rescue team and the Oban lifeboat searched for the distress beacon near Fort William and Corpach.
The device was eventually found near the wreck at Corpach.
The vessel was abandoned at some point with the last 10 years. The MCA said the beacon may have been triggered as it deteriorated.