Crew of broken down boat rescued in 'punishing conditions'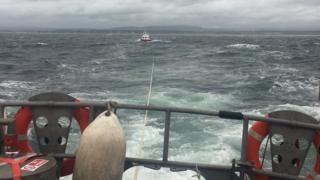 Two people had to be rescued after their small dive support boat broke down in heavy swell in the Moray Firth on Tuesday.
Invergordon RNLI lifeboat was launched at 17:17 and "made best speed" towards the Keltic Lady against the swell and "fierce winds".
The RNLI said a towline was established between the lifeboat and dive boat in "punishing conditions".
Keltic Lady was towed to Invergordon West Harbour. No-one was injured.