Alness science project rescued from tree in Aberdeenshire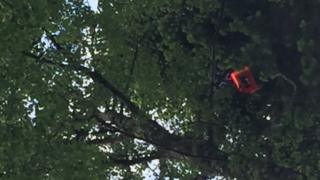 Mountain rescue teams have helped to track down a school's missing weather balloon.
Pupils of the Geoscience Club at Alness Academy in Easter Ross built the balloon before releasing it 49.1 miles (79.1km) away in Aviemore.
Two hours later it landed in Aberdeenshire.
A teacher at Alness Academy who is team leader of Dundonnell Mountain Rescue Team asked counterparts in Aberdeen MRT to look out for it.
Using the grid reference provided by the balloon's GPS, a member of the Aberdeen team, who is also a tree surgeon, was able to rescue the science project from a tree in a forest near Easter Echt.
It was returned to the school where its data was downloaded.
Among the information gleaned from the data was that it reached a height of more than 21,640m (71,000ft) before descending back to Earth.