Scotland's carved Pictish stones re-imagined in colour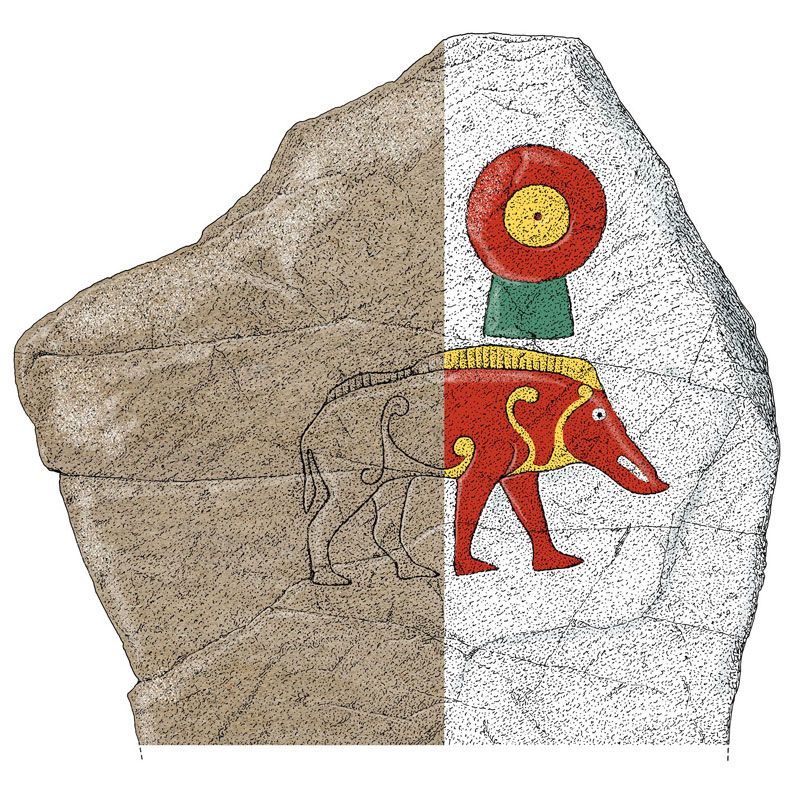 Archaeologists have been uncovering ornately decorated Pictish stones across northern Scotland for many years.
For many, the sculptures' mysterious carvings of animals and symbols are impressive as they are.
But some scholars suggest their ancient creators may also have painted the stones, bringing out in vivid colours their carved salmon, ravens, wolves, boars and even a battle scene.
Working with experts, Historic Environment Scotland (HES) has created new interpretation panels for some of the best-known Pictish stones.
Archaeologists and historians have long debated the origins and activities of the Picts, HES says the idea they painted their carved stones is speculative.
Many academics agree the Picts were descended from indigenous Iron Age people of northern Scotland, and the term "Picti" was likely to have been a nickname the Romans used to describe communities north of Hadrian's Wall.
The Picts created intricately decorated standing stones and also constructed impressive hill forts to defend themselves against rival tribes and invaders.
They battled against the Romans, Angles and the Vikings.
To add colour to their carved stones they would have used minerals and plants to make their paints, says HES.
But sculptures found so far have stood outside for more than 1,000 years so any pigment is likely to have been "scrubbed away" by long exposure to the effects of the sun, rain and wind.
However, there is evidence the Picts used colour on other objects, including metalwork.
Pigment has also survived on other relics elsewhere at the time of the Picts.
These include on stonework from Northumbria and Mercia, while colour is a strong a feature of early Christian manuscripts such as the Book of Durrow and the Book of Kells.
Added to that were the Romans, who used colour on their sculptures and were a "significant cultural influence" on the Picts.
"The hypothesis is supported by many Pictish scholars as probable or the very at least possible," said HES.
"We drew on their advice throughout this project."
Stones with the new interpretation panels include one at Aberlemno in Angus.
It is believed to show the Battle of Dun Nechtain, in or around 685AD, which saw a Pictish army defeat invaders from Northumbria.
Also, the Dunfallandy Stone in Pitlochry, Perthshire.
Another is the Maiden Stone in Aberdeenshire. It was carved more than 1,200 years ago.
Legends attached to the stone include one that purports the stone is actually a woman who was turned stone after losing a wager with the Devil that she could bake bannocks faster than he could build a road to Mither Tap, a summit on the hill Bennachie near Inverurie.
Inverness' Knocknagael Boar Stone was carved more than 1,400 years ago.
It has been in the care of Highland Council for many years after it was damaged by bad weather and vandals.
It is on display at the local authority's headquarters in Inverness.
All images are copyrighted.
Related Internet Links
The BBC is not responsible for the content of external sites.