New bid to create Gathering Place artwork for Inverness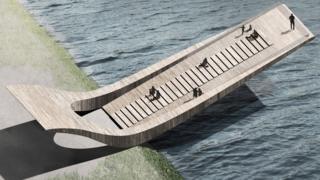 A fresh effort is being made to create a piece of public art on the banks of the River Ness in Inverness.
Last year, Highland councillors voted to abandon plans for a see-saw-like arts installation on the site near Eden Court Theatre.
Costing more than £300,000, it was described as a tilting pier and would have gently tilted up and down.
The project has kept the same name, the Gathering Place, and its artists are to work with the public developing it.
An evaluation panel is helping to guide the project.
Its chairman Prof Jim Mooney said: "The Gathering Place, as the name suggests is an attempt at place making i.e. creating a new civic space for Inverness.
"If we get this right, then the Gathering Place has the potential to bring a great variety of people together fostering beneficial social interaction and cohesion."
He added: "Public art has a long history of stirring controversy.
"However, one of the key demands of art is to provoke thought and debate, as much as it is to stimulate the enjoyment of the senses and aesthetically enhance our lives."
Highland Council said the concept for the new Gathering Place feature will be developed by the artists, Sans façon and OSA "through consultation with people who know, live by and use the river in Inverness".
The Gathering Place would form part of the £758,350 River Ness Art Project.
It has funding from Creative Scotland, City of Inverness Common Good Fund, Highland Council and Highlands and Islands Enterprise.
Tristan Surtees, of Sans façon and OSA, said: "In the not so distant past, our relationship to rivers was a vital one, historically a place where people enjoyed being near and in the river.
"Nowadays, the active use of the river Ness is mostly enjoyed along its banks, sitting by on a sunny day, going on leisurely walks.
"Only aside from the salmon fishermen wading or the yearly Great River Ness Raft Race, people are perhaps not as directly in contact with this wonderful river as they once were."
He added: "The Gathering Place project is an occasion to expand and express the qualities of the River Ness for both locals and visitors, developing a collaborative and engaging artwork shaped with and in response to the passion people feel for their river."