Dad to raise funds to help find cure for daughter's illness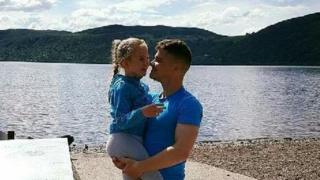 A man whose daughter is one of 125 people in the UK to be diagnosed with a rare life-limiting genetic disease is raising money to help find a cure.
Scott White, from Inverness, will run in September's Baxters Loch Ness Marathon to help generate funds.
His daughter Blainie, eight, has Batten disease, a neurodegenerative condition.
She has had problems with her health since she was four. The disease has impaired her vision, speech and motor skills.
There are and less than 30 children of Blainie's age with the disease.
Loch Ness marathon runners use the event to raise funds for four main charities - Macmillan Cancer Support, Chest Heart Stroke Scotland, Highland Hospice and MS Society - and 15 affiliated causes.
Mr White is raising money for the Batten Disease Family Association.
'Best friend'
Blainie, a pupil at Inverness's Drummond School, has a "zeal for life", her father said.
He said: "Life with Blainie's condition was extremely hard at the start, but we all just get on with it for Blaine's sake. We just want to support her and give her a good quality of life.
"She now goes Drummond Primary School as she gets special needs support that she couldn't get in a mainstream school.
"It's great there - she has a music class, soft play area and sensory rooms which all aid her in being comfortable and at ease."
The 29-year-old added: "As her dad, I take on everything with her.
"She is my best friend and she always makes me smile whenever I see her face."