Police investigate after buzzard illegally caught in trap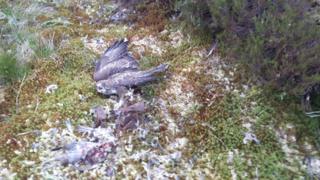 Police have launched an investigation after a buzzard was found in an illegal trap near Tomatin in the Highlands.
The bird was found by a member of the public on the southern slopes of the 601m (1,972ft) Beinn Bhreac on 7 June.
The person who discovered the buzzard was able to release it from the trap, but photographed it first.
Officers said they were now investigating the illegal setting of traps to "deliberately target birds of prey" in the Strathdearn area.
Insp Mike Middlehurst said: "It is very disappointing to have an incident like this reported, especially when there is a great deal of positive work going on in the Highlands to tackle wildlife crime.
"Unfortunately, there are some who continue to deliberately target birds of prey - there is nothing accidental in the setup of these traps.
"I am grateful to the member of the public who came across the bird and for their assistance in trying to free it. They were slightly injured in the process of releasing the bird and had the knowledge to photograph it."
The officer said he wanted to speak to anyone who was walking or mountain biking in the area on the weekend of 3 and 4 June and noticed something suspicious.