Bathgate woman completes 100 Munros challenge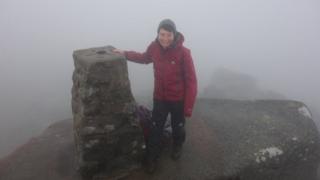 A hillwalker and climber has completed a challenge to ascend 100 Munros in 30 days.
Hazel Strachan, from Bathgate, made most of her climbs in bad weather, according to Scottish Mountain Rescue who she was raising money for.
Last month's challenge included Lochnagar in Aberdeenshire and the Inaccessible Pinnacle on Skye.
In 2015, Mrs Strachan set a record for being the first woman to climb all of Scotland's Munros seven times.
She has since gone on to climb all the 282 mountains of a height of more than 914.4m (3,000ft) an eighth time and is close to completing the feat for a ninth time.
Following her 30-day challenge, Mrs Strachan said: "The lowest points of the month were the hours spent walking in driving rain.
"I was lucky to use wind direction so that most of the time I could walk with the rain battering the back of my hood instead of directly into my face.
"I just had to get on with walking."
Among those supporting her during the challenge were her husband Ian and also former RAF mountain rescue team leader David "Heavy" Whalley and Skye Mountain Rescue Team's Jonah Jones.