'Grizzly favourite' pink salmon found in River Ness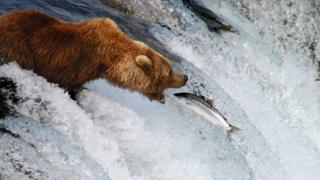 A non-native species of salmon has been found for what is thought to be the first time on the River Ness.
Two pink, also known as humpback salmon, were caught by anglers last week.
The fish are native to Pacific Ocean waters and are a favourite prey of North America's grizzly bears.
A potentially invasive species to the UK, the salmon caught on the Ness maybe related to fish introduced to the Barents Sea in Russia in the 1950s.
Ness District Salmon Fishery Board believes it to be the first time a pink salmon has been recorded in the river, which flows from Loch Ness and through Inverness.
The fishery board, which has asked for any further sightings of the fish, said a pink salmon had also been caught this month on the Helmsdale in Sutherland.