Lost walkers 'made suspected navigational error'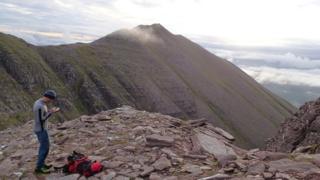 Two hillwalkers are believed to have made a navigational error leading to search and rescue teams looking for them in the wrong area.
The alarm was raised after the pair were overdue from a walk on An Teallach, a mountain in Wester Ross, on Monday.
Dundonnell Mountain Rescue Team and Stornoway Coastguard helicopter made a search early on Tuesday.
The walkers later turned up safe and well in the Loch a'Bhraoin area.
Dundonnell MRT said this was a "considerable distance" from An Teallach and the reason for this was a "suspected navigational error".
Ten volunteers from the rescue team had begun preparing for the search at 02:00 on Tuesday and made searches of ridges and corries.
The coastguard helicopter made sweeps of the mountain using an infra-red camera.
The walkers were found in the Loch a'Bhraoin area at 07:00.