Suspended Corran Ferry returns to service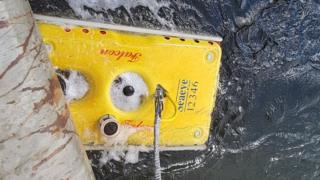 The Corran Ferry has returned to service after being out of action since Saturday following a breakdown.
The boat had drifted and hit rocks near a slipway.
An inspection found it had only sustained slight damage, and repairs have been carried out to its steering.
Highland Council, which operates the service on Loch Linnhe in Lochaber, has faced criticism for having to suspend the service. A back-up boat was not available due to a refit.
There have also been claims of a lack of information on the status of the service and contingency plans.
Highland Council said it had done "everything possible" to restore the service, and had put information on its website and on Twitter.
It also asked Traffic Scotland to warn people of the problems with the ferry with messages on its electronic signs on the A82 trunk road.
However, road works and warnings of heavy rain on Wednesday had to be given priority.
The Corran Ferry allows access to and from the communities of Ardgour, Morvern and Ardnamurchan via a narrow stretch of Loch Linnhe.
It is also used by people and businesses on Mull, who first travel to the mainland on the Fishnish-Lochaline ferry.
The Corran Ferry and Fishnish-Lochaline services also offer tourists an alternative to the Oban to Mull ferry.
Divers and a remotely operated vehicle checked the ferry for damage during the inspection on Wednesday.
Highland Council also sought advice from the Maritime and Coastguard Agency on returning the ferry to its route.