Grandmother, 96, in Australian visa row back in Scotland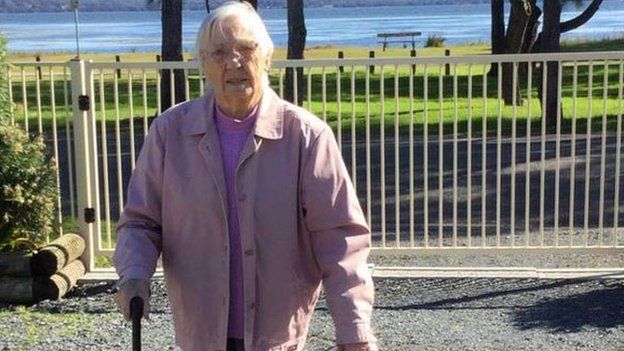 A 96-year-old woman has returned to Scotland from Australia after a visa wrangle.
Christina Grant's family, who live in New South Wales, flew her to Australia following the death of her son and carer, Robert, in February 2015.
The Australian Department of Immigration and Border Protection said it had offered to work with the family.
However, the Grants said they had found the department unhelpful and had refused to treat Mrs Grant, who has dementia, is partially sighted and suffers from poor health, as a special case.
Mrs Grant was living near Grantown on Spey in the Highlands and being looked after by Robert.
Following his death, and because of the state of her health, her surviving son Allan and his wife Diane asked her to move to Australia and live with them.
They applied for a tourist visa so she could get to Australia almost immediately.
A condition of the visa was that she had to depart Australia once every 12 months but could return.
Concerned that Mrs Grant was not fit enough to fly out of Australia to meet this requirement, her family booked her and themselves on a cruise to islands in French territory in the South Pacific Ocean.
They believed that this trip would meet the visa requirements.
However, the Grants later learned that the cruise did not fit with immigration policy. By this time Mrs Grant's visa had been expired for 10 months.
Her family said she was too unwell to meet the medical requirements of another visa.
Diane told BBC Radio Scotland's John Beattie programme that they were left with no option but take her back to Scotland.
She described the journey back to Scotland as "a nightmare".
Mrs Grant suffered from frequent episodes of ill health and collapsed each time she was told she had leave Australia.
Diane said: "Because of her dementia she would forget. We decided not to talk about again until the day before we had to leave.
"When we told her she collapsed in her chair and was violently ill."
The Grants are now arranging accommodation in a nursing home for her.
The Australian Department of Immigration and Border Protection has said previously it offered to work with the family on a new visa.
Following Mrs Grant's return to Scotland, a spokesman said: "Mrs Grant was not deported, she departed Australia voluntarily.
"She entered Australia on a tourist via valid for 12 months and designed for temporary visits, not long term stays or residence."