Traffic advice ahead of Black Isle Show and Belladrum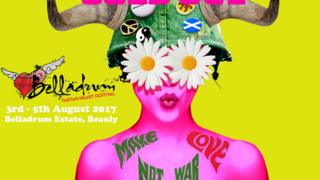 Tens of thousands of people are expected to attend two major events taking place at nearby sites in the Highlands later this week.
The Black Isle Show, which marks its 180th anniversary this year, will be held on Wednesday and Thursday in Muir of Ord.
The Belladrum Tartan Heart Festival takes place at a near Beauly on Thursday, Friday and Saturday.
Police Scotland said roads in the area will be busy.
People are being encouraged to arrive early for the show and festival, particularly on Thursday when the two events overlap.
Belladrum attracts a crowd of between 15,000 and 20,000, while the Black Isle Show has up to 30,000 visitors over its two days.
'Economic importance'
Divisional road policing inspector Gus Stewart, said: "We have been working with the organisers to support them with their traffic management plans for these popular events.
"For those attending the events, we would encourage leaving plenty of time for your journey and follow the travel advice provided by organisers."
He added: "I would also like to take this opportunity to remind drivers of the drink-drive rules and to be aware of how much you drink the night before you plan to leave, as you could still be over the drink-drive limit in the morning."
Rod MacKenzie, of the Black Isle Show, said the Black Isle Farmers' Society had been working with the police and others to plan for the two events.
He said the show and festival were "of huge economic importance to the Highlands".
Belladrum's Joe Gibb said: "As in previous years, we have worked closely with Police Scotland and the Black Isle Show on a joint traffic plan.
"Our thanks go to both organisations for their help and co-operation and we ask our patrons to arrive early to beat the queues."