Probe after men board offshore platform in Cromarty Firth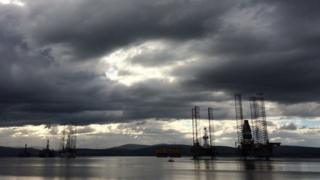 Two men boarded a deserted offshore platform parked in a Highlands firth and filmed themselves exploring it and cooking food in its galley.
The pair, who describe themselves as "urban explorers", took a dinghy to the Ocean Princess, one of several offshore structures in the Cromarty Firth.
Police Scotland said it was aware of the incident and has begun an investigation.
The platform's owner, Diamond Offshore, confirmed an incident took place.
The Cromarty Firth Port Authority has declined to comment.
The incident is understood to have happened at the weekend and the men were thought to have spent a night onboard.
Barbecue grills
Urban exploring is a pursuit in which people search for abandoned structures and buildings, such as hospitals and Cold War nuclear bunkers.
The men's video showing them taking the boat to the rig, walking around it and cooking bacon on throwaway barbecue grills was uploaded to YouTube, but it has since been removed.
A police spokesman said: "Police Scotland is aware of the video and are working with the relevant partners and companies to establish the circumstances and identify the individuals involved."
The Cromarty Firth is routinely used as an anchorage for offshore oil and gas rigs and platforms.
Some of the structures are taken there for maintenance work to be done by workers based at yards at Invergordon and Nigg, on the firth's shore.
Others are left in the firth until they are needed.
In 2007, high oil prices and a world shortage of platforms led to all of the up to 20 structures parked up in the Cromarty Firth being towed away for work in the North Sea and elsewhere.
Recently, rigs and platforms have been returning to the firth.
Star Wars
The large area of sheltered water was also used until late last month as a stopover for the Royal Navy's new aircraft carrier, HMS Queen Elizabeth.
Security was heightened during the warship's visit, with some minor roads close to the firth's shore's closed to the general public.
The sight of rigs parked in the firth has also been the inspiration for a book, a tourism venture and a Star wars-themed photography project.
Novelist Christopher Brookmyre's book One Fine Day in the Middle of the Night features an ill-fated school reunion on an oil rig in the process of being converted into a luxury hotel off the Highland coast.
Meanwhile, Harrods owner Mohamed Al Fayed had a plan to transform an oil platform in the Cromarty Firth into a country house-style hotel.
Last year, Glasgow-based photographer Craig Mann created images that placed some of Star Wars' best-loved characters on rigs parked up in the firth.