Bikers' wedding on eve of Europe's biggest Harley rally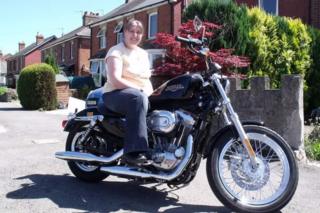 Two motorcycle enthusiasts are to get married on the eve of Europe's largest Harley-Davidson bike rally.
Shelley Denton and Paul Osborn, from Gloucestershire, are to tie the knot on Thursday after travelling to the Cairngorms for Thunder in the Glens.
The couple who are members of the rally's organisers, Edinburgh's Dunedin Chapter, had originally planned on having a quiet wedding.
But it is to be attended by some of the almost 3,000 riders due at the rally.
Ms Denton has been riding motorbikes since 1998 and Mr Osborn since 1996.
They first met on a ride out - a mass road trip by motorcyclists - at a Cheltenham Harley-Davidson event in 2011.
The couple joined the Dunedin Chapter in 2015.
Alex Glen, director of the Dunedin Chapter will be giving Ms Denton away while fellow Dunedin Chapter members will form the bride and groom's parties.
A spokeswoman for the chapter said: "While they originally planned a quiet wedding to avoid being the centre of attention, it's turned into a slightly larger celebration."
About 2,200 Harley-Davidson owners have registered for the 21st Thunder in the Glens and a further 600 could turn up during the event which runs from Friday to Monday.
The rally is based in Aviemore, but sees riders taking trips on roads across the Cairngorms.