Littering issue on scenic North Coast 500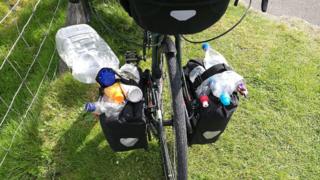 A problem with littering on a scenic route in the Highlands has been highlighted by a long distance cyclist.
Rodrigo Salvatierra Arraño, an engineer from Santiago in Chile, cycled the North Coast 500 (NC500) as part of a month long tour of Europe.
Along the way on the NC500 he filled his bike's panniers with discarded plastic bottles, cans and other litter.
The route's organisers confirmed rubbish has been an issue in recent weeks.
The Chilean cyclist said: "The Highlands are beautiful and remind me of the scenery in Patagonia. It is a shame that it is spoilt in places by litter.
"Whilst cycling on the beautiful Highland roads I noticed some plastic bottles at the side of the road. I picked these up and then I saw some cans and more things.
"I had cycled for about 5km and by this time I had filled all my panniers with litter."
---
What is the NC500?
The North Coast 500 stretches for more than 500 miles.
It was launched in 2015 by the North Highland Initiative.
Since its launch, the route has brought 29,000 more visitors to the Highlands and added £9m to the region's economy, according to a study.
Starting and finishing in Inverness, the NC500 features roads in the Black Isle, Caithness, Sutherland and Wester Ross.
It includes several challenging ascents and descents, including the Bealach-na-Ba at Applecross. The unclassified road rises to about 626m (2,053ft) over about four miles (8km).
---
He added: "I also noticed that a lot of people are leaving rubbish beside the bins instead of inside of them, especially when they are full."
Highland councillor Trish Robertson, who is vice chairwoman of the local authority's places committee, has thanked the cyclist for picking up other people's rubbish.
She said: "Highland is growing in popularity with tourists from across the world and we want to preserve our beautiful environment and show it to the best advantage.
"I appeal to both visitors and locals - put your litter in a bin or take your litter home with you.
"On no account should anyone throw their litter out on the side of the road."
Tom Campbell, managing director of the NC500, said he hoped people travelling the route will help keep it litter free.
He said: "Recently, we have been alerted to quite a few incidents of littering on and around the route.
"This issue is not unique to the North Coast 500, and it's not a new problem, but it's certainly more obvious in rural areas."
He added: "I think everybody acknowledges it is something that needs to be addressed.
"Although people are ultimately responsible for picking up their own litter, there is definitely more everyone could collectively be doing to help."