Pond at Ballachulish 'free' of invasive crayfish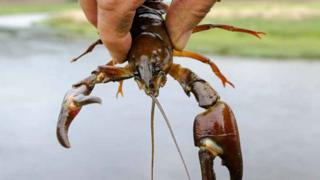 A quarry pond in the Highlands has been cleared of North American signal crayfish, according to Lochaber Fisheries Trust.
The group has been involved in an effort to rid the pond at Ballachulish of the invasive species.
A Highland Council ranger first discovered crayfish there in 2011.
Lochaber Fisheries Trust said it has been five years since a crayfish had been found, suggesting eradication efforts have been successful.
Crayfish feed on native insects, frogs and small fish.
Highland Council, Scottish Natural Heritage and the Lochaber Fisheries Trust were involved in the eradication project at Ballachulish.
Killing the thousands of crayfish involved a poison used to control bed bugs, but which is harmless to mammals and birds.
The trust has tweeted: "Success is an empty crayfish trap.
"Five years after treating Ballachulish quarry it's great the pond is full of local wildlife but no crayfish."