Mull sea eagle thought lost is found in Sutherland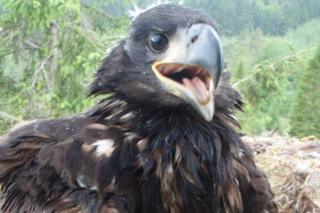 A sea eagle whose movements could be tracked online has been found raising young in the north Highlands.
Known as Shelly, the bird was satellite tagged and also fitted with a blue and silver leg ring when it was a chick on the Isle of Mull in 2010.
The tag, which was designed to come off the bird after a period of time, was found on the Isle of Lewis in 2013.
The bird has recently photographed fishing in Sutherland and found to be raising young in the area.
Shelly was identified by her leg ring.
Iain Paterson, who took the photograph of the eagle fishing, alerted conservationists to the bird's ring.
He also found Shelly's nest site where she has been raising two chicks with a male bird that was ringed on Lewis.
Roy Dennis, of the Highland Foundation for Wildlife, along with RSPB Scotland and Forestry Commission Scotland have played a part in protecting the raptor.
Dave Sexton, RSPB Scotland's Isle of Mull officer, said: "I knew the blue and silver combo meant 2010 and my heart was racing as I looked back at the ringing and tagging records for that year.
"I'd always wondered how Shelly was and where she might be. And there it was on the breeding summary: 'C9 39; chick satellite tagged'. We'd found her.
"She's aged seven now, so fully mature and transformed from the rather scruffy brown chick we'd encountered in the nest."
Mr Paterson, a keen birder, said: "One thing I can say about Shelly is her elegance for such a big bird.
"When she picks up a fish there's hardly a splash yet with her mate, either his aim is slightly off target or he doesn't bother because he causes a much bigger splash.
"All amazing to watch though."