Firm fined after worker's fall at Inverness Harbour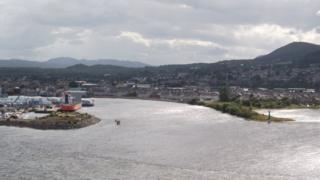 A cargo handling company has been fined £60,000 after one of its workers was seriously injured in an accident involving wind turbine components.
Wilson Reid fell while working in the lower hold of a ship docked at Inverness Harbour on 21 August 2015.
His injuries from the fall included a fractured skull and eye sockets, a dislocated jaw and damage to his teeth.
Whyte Crane Hire Ltd was fined after pleading guilty to a single charge under health and safety regulations.
Mr Reid was involved with unloading turbine components at the time of the accident, Inverness Sheriff Court heard.
While attempting to attach lifting gear to a unit holding turbine fins, he lost his balance and slipped and fell a distance of about 15ft (4.5m).
'Life significantly changed'
The court was told that the firm had failed in its responsibilities to ensure work being undertaken by its employees was properly planned, appropriately supervised and carried out in a manner which was, so far as reasonably practicable, safe.
After the company was fined, Alistair Duncan, head of health and safety at the Crown Office, said Mr Reid could have died in the accident.
Mr Duncan said: "This was an accident that resulted in serious injuries that could have been avoided if the appropriate planning and protective measures had been in place at the time.
"This incident could well have proved fatal and it has significantly changed Mr Reid's life.
"Whyte's failure also placed three other employees involved in the task to the same serious risks."