Road on North Coast 500 scenic route reopens after flood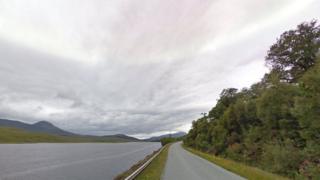 A road in the north-west Highlands has reopened after part of it was washed away during a flood.
The A832, part of the North Coast 500 route, was shut between Achnasheen and Gorstan on Friday after "significant flooding" in the Loch Luichart area.
There has also been flood damage on the railway line in the Garve area.
The road reopened at about midday on Saturday, though police warned traffic lights were now in place around the affected area.