Injured crewman in long-range coastguard helicopter rescue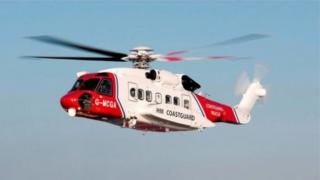 An injured crewman has been rescued from a fishing vessel in a long-range rescue off the Western Isles.
The coastguard rescue helicopter flew 230 nautical miles (426km) from Stornoway to reach the casualty.
A fixed-wing coastguard aircraft escorted the helicopter during the operation.
After the helicopter returned to Stornoway, the man was transferred to an air ambulance. He had suffered a serious injury to his hand.
Dai Jones from UK Coastguard said: "This vessel was a long way out which meant we had to provide top cover to support the helicopter as it flew out pick up this injured man.
"We're always glad to play our part in helping to rescue people and wish this crewman well."