Buyout suggested of part of CairnGorm Mountain ski centre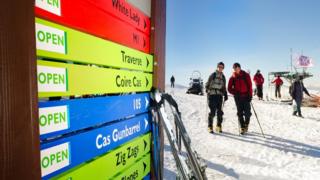 A business group has suggested mounting a community buyout of part of the CairnGorm Mountain snowsports centre.
Aviemore Business Association (ABA) wants to see a former ski area called the Ciste put back into use.
Unused ski tow equipment, concrete bases and snow fencing are being removed from that area.
Highlands and Islands Enterprise (HIE), which has funded this work, said it respected ABA's views but would be disappointed if a buyout was attempted.
ABA, which says it represents 80 local businesses, has put details of its plans on its website but has declined to comment further.
HIE owns CairnGorm Mountain, which is managed on its behalf by the company Natural Retreats.
A spokesman for the enterprise agency said: "We completely respect ABA's rights to go down the community buyout route, although disappointed that they feel this is necessary.
"Ultimately all parties want the same thing for Cairngorm, namely a thriving skiing destination combined with a year-round visitor attraction that supports the Strathspey economy."