Top climber hurt playing with skateboarding daughter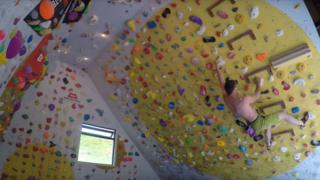 One of Scotland's top climbers has told of injuring a shoulder playing with his six-year-old daughter on her skateboard.
Dave MacLeod, whose climbs often take him hundreds of feet up cliff faces, was holding Frieda's hands when she fell off.
He fell too and landed awkwardly, tearing ligaments joining his right collar bone to his shoulder blade.
Lochaber-based MacLeod said: "It was just one of those things."
The climber, who has previously had to make recoveries from serious climbing injuries, added: "We both fell. It just happened in a split second.
"I've always counted myself lucky not to have had any traumatic shoulder injuries. There is a first time for everything.
"On the first two days it was so painful it took me 30 minutes to get sat up in bed. Taping it had me yelping like a kid."
Sea stacs
MacLeod is now five weeks into his recovery from the accident, and has been training on climbing walls set up at his home.
He said: "The recovery is going really well. I'm thinking about maybe getting back out on to the rock again tomorrow."
MacLeod has spent much of this year climbing new routes across Scotland, including on sea stacs in the remote St Kilda archipelago, and making a new film.
He said: "I visited St Kilda six years ago and always wanted to go back with more time. We sailed out. It was a fantastic trip."
Live on television
MacLeod is known for striking new routes on Scotland's toughest rock faces, and also on cliffs and crags across the world.
He also does bouldering, climbing across large boulders with few handholds on which to grip on to.
Seven years ago, MacLeod and fellow climber Tim Emmett completed a gruelling new route live on television.
The pair achieved their feat with barely minutes left before the broadcast had to drop off air.
Later dubbed Usual Suspects, after the 1995 film starring Kevin Spacey, the climb is one of the toughest on Sron Ulladale, a towering rock face on the Harris in the Western Isles.
The following year, MacLeod made the first free climb of Longhope Direct, a route on St John's Head, on Orkney. St John's Head is the UK's largest sea cliff and rises to more than 343m (1,128ft).
In free climbing, ropes and equipment are only there as protection against a fall and cannot be used as an aid.
In the months that followed, MacLeod completed a new free climb in Norway and shot a film about bouldering in Switzerland.
The climber, who also coaches and writes extensively about climbing and dealing with injuries, has also previously struck a new climb at an overhang, or roof, on the Isle of Raasay.