Last redundant Cairngorms electricity tower pulled down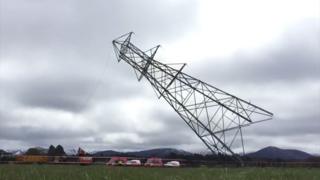 The last of about 300 redundant electricity transmission towers in the Cairngorms National Park have been pulled down.
They have been demolished as part of SSE's £600m upgrading of the 137-mile (220km) Beauly-Denny power line.
The final phase of the tower removal work involved 84 between Aviemore and Kingussie.
New towers were built in parts of the park for the Beauly to Denny project, but fewer in total than previously.
Between Aviemore and Kingussie, new underground electricity distribution cables have been installed to replace the overhead cables.
The removal of all the old towers, which include some on the Beauly-Denny route and others that carried electricity to communities, will provide more than 1,500 tonnes of steel for recycling.
The redundant towers will not be replaced.