Inverness speycasting contest held at salmon festival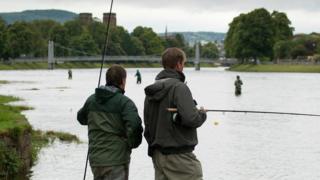 A 100-year-old angling competition is being held as part of a festival dedicated to salmon.
Scotland's Salmon Festival, a biennial event held in Inverness, has a programme of talks, short films and angling and cookery demonstrations.
One of the main events is Friday and Saturday's Inverness Angling Club Centenary Speycasting Tournament on the banks of the River Ness.
Thirty anglers from across Europe and the USA are competing.
Competitors include Norwegian speycasters Vidar Ness, Geir Hansen and Jarle Strandberg.
Inverness Angling Club's Aiden MacDonald, 15-year-old club member Jordan Grant and Beauly-based angler Donna-Claire Hunter are also competing.
The festival, which has Inverness College UHI as a lead partner, will hold a free family fair in Bught Park near the River Ness to coincide with the tournament.