Carve Carrbridge to be held for 15th year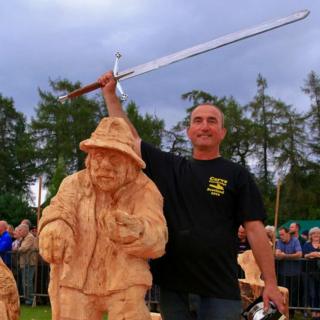 Twenty-four entrants are to compete in the 15th Carve Carrbridge chainsaw carving contest.
The first time the event was held in the village in the Cairngorms it had four entrants.
Thousands of people are expected to attend Saturday's competition, which doubles as the Scottish Open Chainsaw Carving Championships.
Only chainsaws are permitted in the contest. Carvers are banned from using other tools in making their creations.
George Dyer, of the competition's organising committee, said: "Over 3,000 people attended last year and it was the best year yet."
He added: "I think people come because they are intrigued.
"And once they've come once they tend to return to see what these chainsaw artists can do with a lump of wood."
Last year, Wladek Ligocki, from Poland, brought to an end Moffat's Pete Bowsher's run of wins in Carve Carrbridge.
Mr Bowsher, who is among this year's competitors, had previously come first overall in the event three times in a row.
Mr Ligocki took first place carving a sculpture depicting a hunched old man.
Mr Bowsher did win the People's Choice and was second place overall.
Third was Michael Tamoszus, from Germany, and the Best New Entrant was won by Jonathan Sherwood, from Harrogate in Yorkshire.
Other carvers who competed included Alice Buttress, from Carrbridge, and Sue O'Sullivan, from the USA.
The event saw its strongest field of female competitors in 2015 when three women challenged 21 men for the title. The women included Texas-based carver Griffon Ramsey.
A woman last won the Claymore Trophy 12 years ago.
Mr Dyer said the weather forecast looked good for suitable carving conditions on Saturday, adding: "I just hope that it isn't windy. Sawdust flies around in the wind."