Elphin in Sutherland to have lower speed limit on A835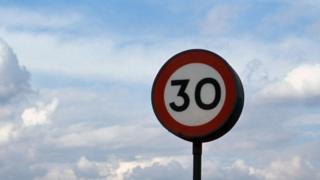 Residents of a Highland community on the popular North Coast 500 route have won their campaign for a lower speed limit.
Highland councillors have approved that the limit on a 650m (2,130ft) stretch of the A835 in Elphin, in Sutherland, be reduced from 40 to 30mph.
Road signs are to be improved and new speed warning signs are be installed.
Councillors also agreed that the potential of creating a new footpath alongside the road be investigated.
People in Elphin, 15 miles (24km) north of Ullapool, raised a petition in 2015 asking for a 40mph speed on approaches to the village to be reduced.
Until now, Highland Council had not put in place any of the speed calming measures suggested by residents.
The local authority said in February this year it would investigate lowering the speed limit.
Elphin, a community of about 44 houses, is on the A835, which forms part of the North Coast 500 (NC500) tourist route.
When the petition was raised in 2015, residents asked Highland Council to reduce the speed limit on bends in the road to help better protect children catching a bus to school.
Since then, residents said traffic had increased due to the popularity of the NC500.