Actress reveals how she won her role in Star Wars
By Steven McKenzie
BBC Scotland Highlands and Islands reporter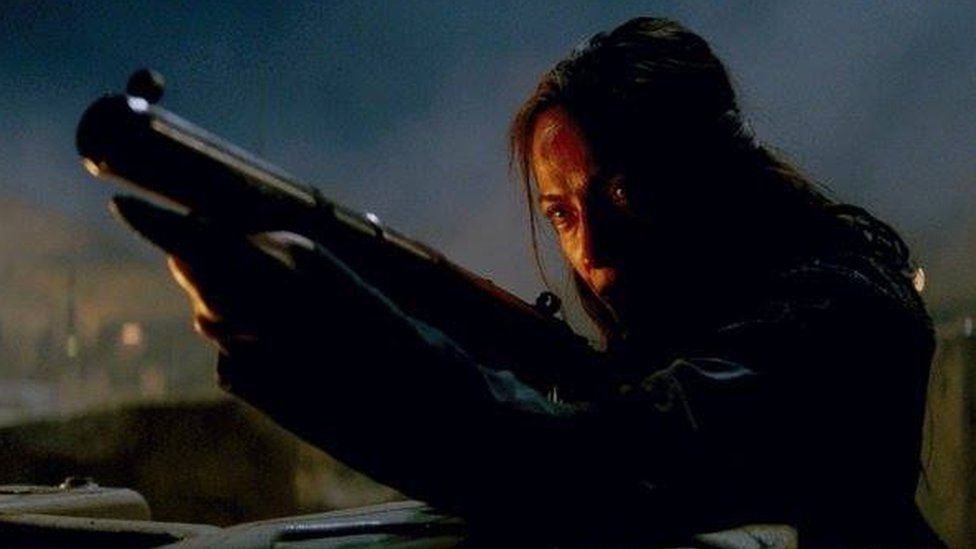 Popular culture festival, Fort Con 2, takes place in Fort William this Saturday. One of its guests, American actress Gloria Garcia, has appeared in EastEnders, Bond film Spectre and secured a role in Star Wars: The Force Awakens thanks to her former career as a US sheriff.
Garcia is looking forward to making her first visit to the Scottish Highlands.
"How exciting, right?" she says. "I'm waiting for the kilts and bagpipes and good medieval stories."
Garcia admits to being a newcomer to the comic convention circuit. She attended her first event only last year and last week was at Sci-Fi Wales. Fort Con 2 will be her third time.
"I feel so lucky as it is a very tight network," she says of her invites to events popular with fans of comic books, film and TV shows.
"I guess my name was coming up and people were like 'Yeah lets get her in'," she adds, laughing.
"I feel so fortunate. It's pretty spectacular being a part of Star Wars fandom."
Garcia's fandom comes from her appearance in the opening scenes of 2015's JJ Abrams-directed Star Wars: The Force Awakens.
Her character is caught up in a battle to save a village on the desert planet Jakku from an invading force of the villainous First Order.
But, while auditioning as an extra for the film, Garcia feared she had ruined her chances during an encounter with the director.
"There was a moment when director Abrams gathered some of the girls and there were a bunch of 'weapons' lying around and he said: 'Alright pick em up'," says Garcia.
"Well, I had a 'gun' and I cocked it and pointed it straight at him.
"He looked over at me and says: 'You look like your gonna kill me'. I thought 'oh great I'm being fired as an extra'."
But later the director pulled Garcia aside and introduced himself.
Garcia says: "He asked me what I used to do for a living. I said I used to be a Chicago sheriff in the Cook County Sheriff Department. He almost fell over.
"The next thing, he was directing me in what was my feature shot. The rest as they say is history. He single-handedly changed my life forever."
She adds: "When I win an Oscar he will be the first person I thank."
Garcia, who had previously played a police officer in EastEnders and was Monica Bellucci's stand-in in Spectre, said her part in The Force Awakens will live with her forever.
"There was a moment when I heard someone calling my name 'Gloria , Gloria...' I thought 'Who is calling me?' and it was JJ Abrams.
"He waved me over and showed me on the camera my shot and he said: 'Boom. There you are'.
"But truly there are so many moments both on set and the movie itself that I will never forget.
"Watching on the big screen the Stormtroopers coming out of the ship to attack Jakku - to see that on set and on the big screen was quite unforgettable."
Looking ahead to Saturday's Fort Con 2, she says: "There is no greater reward then being able to meet all the Star Wars fans in person.
"They are incredible people all with their own stories. I love them. I would not be if it weren't for them."
Related Internet Links
The BBC is not responsible for the content of external sites.