Rocket fired from Scottish isle destroyed in space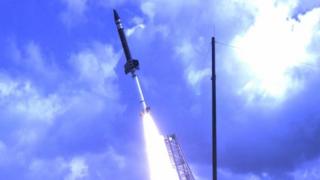 A rocket fired into space from a Scottish island was detected and destroyed by warships, according the Dutch Ministry of Defence.
The Terrier Oriole rocket was launched from Benbecula in the Western Isles during Nato exercise Formidable Shield.
It was detected by new radar equipment on the Dutch warship HNLMS De Ruyter.
The frigate's crew alerted a US Navy warship which fired a missile to intercept and destroy the rocket above the Earth's atmosphere.
The Terrier Oriole rocket was used to represent a ballistic missile.
The event, which took place during the US-led war games earlier this month, was the first time Nato allies had trained together using the new radar system.
Fourteen ships, 10 aircraft and about 3,300 personnel from the UK, US, Canada, France, Germany, Italy, the Netherlands and Spain were involved in the exercise.
Focused on the Hebrides Range, an area of sea used for missile tests, it tested Nato's capability to defend its members from ballistic missile threats.
Sites in Uist in the Western Isles and on Hirta, the main island in the St Kilda archipelago, which lies about 40 miles (64km) west of North Uist, form parts of the range.